Junior Canoe Kids (Ages 6 & 7)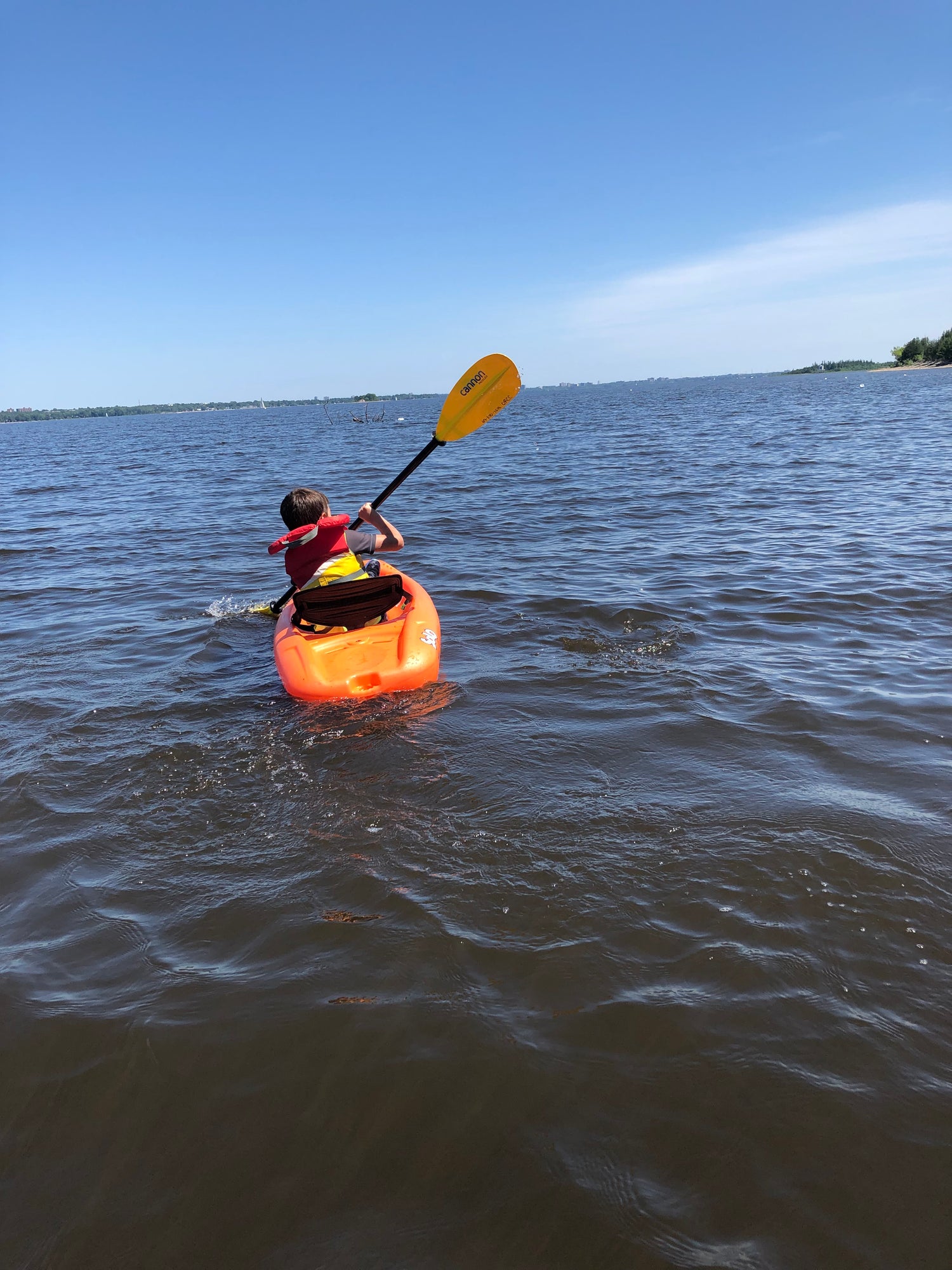 Starting Young!
The Junior Canoe Kids (JrCK) program provides a fun camp environment for children ages 6 & 7 to learn the fundamental paddling skills required to use a canoe, kayak, SUP, and dragon boat to name just a few. By the end of the week, our hope is that each camper leaves instilled with a lifelong passion for paddling.
Registration is Now Closed
Key Information
Cost

$349.00 Full Week

$280 Short Weeks (Long Weekends)

***Subject to change for Summer 2024

Hours

Drop-Off: 8:00 - 8:30 AM

Pick-Up: 3:30 - 4:00 PM

*Late pick-up available until 5:00 PM*
Event Details
Camp Details

The JrCK program is designed to provide children an opportunity to paddle and socialize with their friends in a fun group environment. Campers develop water safety awareness and paddling skills while increasing their confidence on the water. Canoe Kids and Jr.Canoe Kids are quite similar in terms of boat types used and camp goals with the only differences being:

JrCK has a ratio of 1 coach for 6 campers and there is only one pod per week, keeping the group small and close-knit 
JrCK have more breaks throughout the day and typically spend more time doing land-based activities such as arts and crafts, field games, and swimming (not land-based but less exhausting than paddling), especially in the afternoon. This differs from day to day as coaches are constantly reassessing group energy levels. 

All in, our focus is on good summer vacation fun! 
Schedule

Sample Day

8:30 AM: Field Games
9:30 AM: Water Activity #1
10:30 AM: Snack / Break
11:00 AM: Water Activity #2
12:30 PM: Lunch
1:00 PM: Freetime
1:45 PM: Water Activity #3
3:00 PM: Clean Up
3:30 PM: Pick-Up

Sample Week

Monday: Staying around the ORCC - Intro to Canoe / Kayak / SUP
Tuesday: Canoe / Kayak / SUP to beach
Wednesday:  Dragon boat to Aylmer Island
Thursday: Choice of boats and/or try a racing boat 
Friday: Fun-gatta (fun race), which includes campers at all levels.
What to Bring

Government Approved PFD (if you have one)
Backpack
UV resistant clothing
Change of clothes & plastic bag to put wet clothes in
Bathing suit & towel
Running shoes & water shoes (watershoes of some sort are necessary as we have a rocky shoreline)
Hat, spray on sunscreen & insect repellent (apply the first layer before coming to camp)
Lunch, snacks & water bottles

​​Note: Campers must be able to apply sunscreen, change their clothes, and use the washroom on their own. We will ensure sunscreen is applied safely and properly during the many break times throughout the day. Staff are not permitted to apply sunscreen, insect repellent or accompany campers to the washroom.

Appropriate Watershoes: These may include crocs, watershoes, waterproof sandals such as keens or any other shoe that can be worn in water. Flip-flops are not a viable option.
Safety: Our Number One Priority

Water Safety:

All campers undergo a swim assessment on their first day of camp that includes swimming 50 meter and treading water in the river. This assessment allows our counsellors to determine each campers comfort level in and around the water. No camper will be turned away due to swim ability as 

ALL

 campers, regardless of swim ability, are required to wear a Government of Canada Approved Personal Flotation Device (PFD) while on or near the water.

Realizing that our participants have varying swimming abilities, the ORCC recommends that all paddlers strive to attain a progressive swim competency following the Red Cross Swim Kids program.  

Coach to Camper ratio

Jr.Canoe Kids: 1:6 ratio
Canoe Kids: 1:8 ratio
Camp Fees

***Information below is for 2023, prices and dates subject to change for 2024. Details will be finalized and updated by January 25.

Camp Rates are as follows:

$349 Per Child / Per Week
$280 Per Child / Per Short Week

Short Weeks

July 4 - 7
Aug 8 - 11
Aug 28 - 31

Late Pick-Up

Late pick-up is offered until 5:00PM for $45 per week/per camper
Credit Card & Cancellation Policy

Credit Card Policy

ORCC offers a variety of payment methods such as e-transfer, credit card, and PayPal.   However, credit card/PayPal transactions cost the club thousands of dollars every year.  In an effort to keep program pricing reasonable, we ask those participants who wish to pay by credit card or PayPal to ensure you also pay the credit card/PayPal convenience fee to help offset the costs to the club. No convenience fee is charged for electronic transfers to treasurer@orcc.ca

Cancellation Policy

Please be aware of the ORCC Cancellation Policy:

Program registration cancellations which are received two weeks prior to the start of the program will receive a full refund less the $15 non-refundable administration fee.

No refunds are available within two weeks of the start of the program or once the program has started; a prorated credit only will be issued.
In the case of injury or illness, a medical certificate may be required, and refunds will only be offered as camp fee prorated credit to be used for a future ORCC camp or program registration.