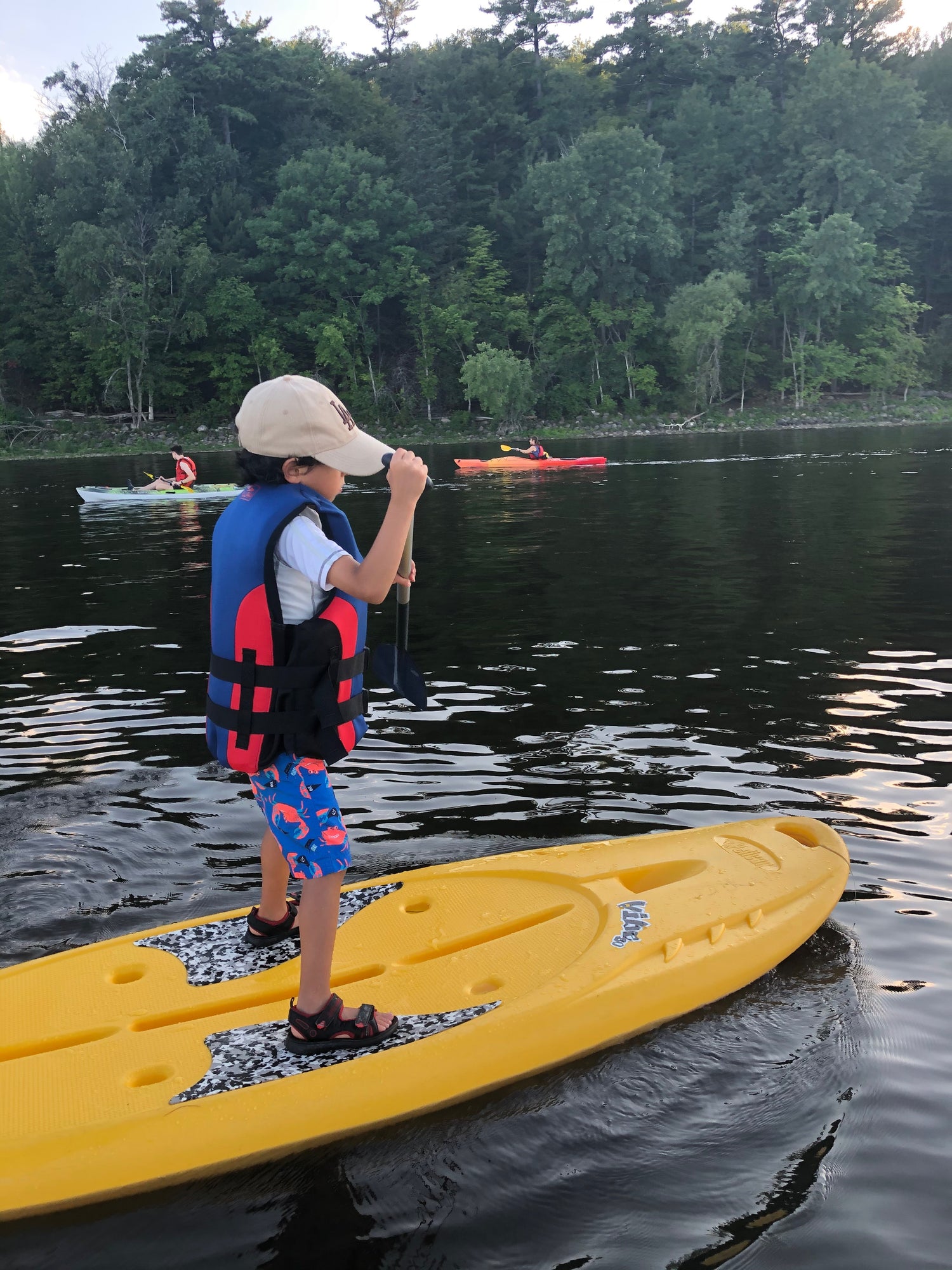 Never too Young to Paddle!
The ORCC Kiddie Canoe evening program is designed for young paddlers aged 5 to 7.
If you have a future paddler looking for a fun place to meet friends and learn new skills, then we have the summer evening program for you. Participants will develop their canoe, kayak, SUP, dragon boat, and maybe even outrigger skills!
Registration is Now Closed
Key Information
Cost

$149.00

***2024 Prices TBD***

Hours

Tuesdays & Thursdays: 17:30 - 18:30
Additional Information
What to Bring

Government Approved PFD (if you have one)
UV resistant clothing
Change of clothes & plastic bag to put wet clothes in
Bathing suit & towel
Running shoes & water shoes (watershoes of some sort are necessary as we have a rocky shoreline)
Hat, spray on sunscreen & insect repellent
Waterbottle

Appropriate Watershoes: These may include crocs, watershoes, waterproof sandals such as keens or any other shoe that can be worn in water. Flip-flops are not a viable option.
Routine

Protocol:

Guardians will check-in with the coach at the long white tent in the main club area. Click HERE to see an image of the meeting spot.
Due to the young age of the participants, guardians are asked to stay on site (but not participate)
Water Safety: Our Number One Priority

Water Safety:

No participant will be turned away due to swim ability as

ALL

participants, regardless of swim ability, are required to wear a Government of Canada Approved Personal Flotation Device (PFD) while on or near the water.

Coach to Participant ratio

1:5 Ratio allows for close supervision of participants
Prerequisite

The program is designed for children new to paddlers so we will be starting at the basics - no prior experience required.

We do ask that your child be comfortable in/on the water as there is a good chance they may jump in. Participants will always have their lifejacket on (no exceptions).
Credit Card & Cancellation Policy

Credit Card Policy

ORCC offers a variety of payment methods such as e-transfer, credit card, and PayPal.   However, credit card/PayPal transactions cost the club thousands of dollars every year.  In an effort to keep program pricing reasonable, we ask those participants who wish to pay by credit card or PayPal to ensure you also pay the credit card/PayPal convenience fee to help offset the costs to the club. No convenience fee is charged for electronic transfers to treasurer@orcc.ca

Cancellation Policy

Please be aware of the ORCC Cancellation Policy:

Program registration cancellations which are received two weeks prior to the start of the program will receive a full refund less the $15 non-refundable administration fee.

No refunds are available within two weeks of the start of the program or once the program has started; a prorated credit only will be issued.
In the case of injury or illness, a medical certificate may be required, and refunds will only be offered as camp fee prorated credit to be used for a future ORCC camp or program registration.